Strain Name
C57BL/6-Cd22tm1(CD22)/Bcgen
Common Name

B-hCD22 mice

Background

C57BL/6

Catalog number
110775

Related Genes


cluster of differentiation-22, SIGLEC2
Gene description
CD22 (cluster of differentiation-22), is a membrane receptor found on B cells and is a member of the Siglec family of proteins (designated Siglec-2). CD22 primarily exists as a protein containing 7 Ig-like domains, the most membrane-distal of which (domain 1) is responsible for ligand binding. The expression of CD22 is generally regarded as being restricted to B cells. CD22 is initially expressed on immature B cells, is present throughout most of B-cell development, being most highly expressed on naïve B cells, but is lost on plasmablasts and plasma cells. Nevertheless, memory B cells and germinal center B cells from human tonsils express CD22 to a significant degree. CD22 negatively regulates B cell receptor signaling by binding sialic acid and recruiting SHP-1 or SHIP-1 via immuno-receptor tyrosine-based inhibitory motifs (ITIMs). CD22 is highly expressed on the surface of most malignant B lymphoma cells, including acute lymphoblastic leukemia and hairy cell leukemia, but is limited in normal B cells and rarely expressed in other normal tissue cells, making it a popular target for the treatment of autoimmune diseases and B-cell malignancies.
mRNA expression analysis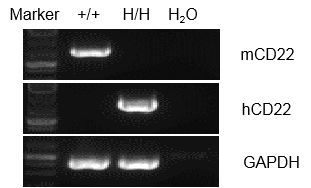 Strain specific analysis of CD22 gene expression in WT and homozygous B-hCD22 mice by RT-PCR. Mouse Cd22 mRNA was detectable in splenocytes of wild-type (+/+) mice. Human CD22 mRNA was detectable only in H/H, but not in +/+ mice.
protein expression analysis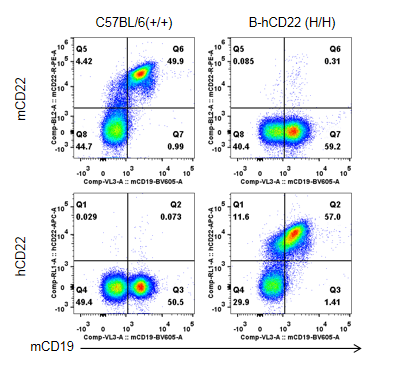 Strain specific CD22 expression analysis in homozygouse B-hCD22 mice by flow cytometry. Splenocytes were collected from WT and homozygous B-hCD22 (H/H) mice, and analyzed by flow cytometry with species-specific CD22 antibody. Mouse CD22 was detectable in WT mice. Human CD22 was exclusively detectable in homozygous B-hCD22 but not WT mice.