Strain Name
C57BL/6-Cd36tm1(CD36)/Bcgen
Common Name
B-hCD36 mice
Background
C57BL/6
Catalog number
111045
Related Genes

CD36 (cluster of differentiation 36)
Gene description
CD36 (cluster of differentiation 36), also known as platelet glycoprotein 4, fatty acid translocase (FAT), scavenger receptor class B member 3 (SCARB3), and glycoproteins 88 (GP88), IIIb (GPIIIB), or IV (GPIV) is a protein that in humans is encoded by the CD36 gene. The CD36 antigen is the fourth major glycoprotein of the platelet surface and serves as a receptor for thrombospondin in platelets and various cell lines. It imports fatty acids inside cells and is a member of the class B scavenger receptor family of cell surface proteins. CD36 binds many ligands including collagen, thrombospondin, erythrocytes parasitized with Plasmodium falciparum, oxidized low density lipoprotein, native lipoproteins, oxidized phospholipids, and long-chain fatty acids. It directly mediates cytoadherence of Plasmodium falciparum parasitized erythrocytes and it binds long chain fatty acids and may function in the transport and/or as a regulator of fatty acid transport. Mutations in this gene cause platelet glycoprotein deficiency.
Protein expression analysis in macrophages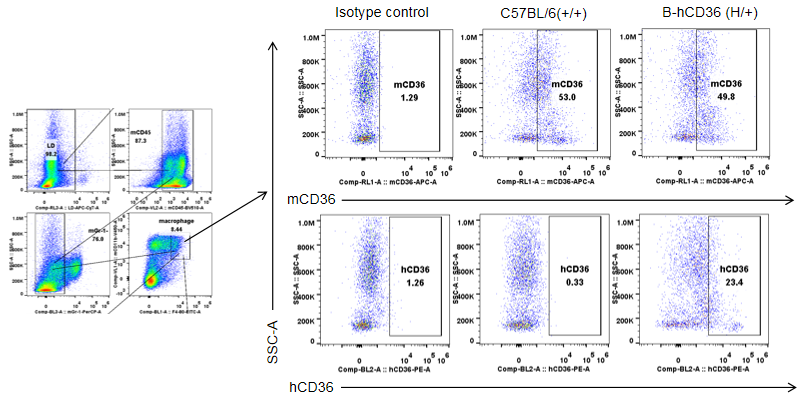 Strain specific CD36 expression analysis in heterozygous B-hCD36 mice by flow cytometry. Bone marrow cells were collected from WT and heterozygous B-hCD36 (H/+) mice, and analyzed by flow cytometry with species-specific CD36 antibody. Mouse CD36 was detectable in WT mice and heterozygous B-hCD36. Human CD36 was exclusively detectable in heterozygous B-hCD36 but not WT mice.