Strain Name
C57BL/6-Ctla4tm1(CTLA4)Havcr2tm1(HAVCR2)/Bcgen
Common Name

B-hCTLA4/hTIM3 mice

Background

C57BL/6

Catalog number
120530
Related Genes

CTLA4 (cytotoxic T-lymphocyte-associated protein 4)
HAVCR2 (hepatitis A virus cellular receptor 2)
Gene description
CTLA4 (cytotoxic T-lymphocyte-associated protein 4), also known as CD152, competitively binds to B7-1 (CD80) and B7-2 (CD86) on Antigen-Presenting Cells (APCs) to block the T cell activating signal by B7 and CD28 (on T cells) interaction. The inhibition of CTLA4 by its inhibitory antibodies enhances T cell activity. The CTLA4 antibody is the first FDA-approved antibody to treat advanced melanoma. T-cell immunoglobulin domain and mucin domain-3 (TIM3) is an activation-induced inhibitory molecule involved in immune tolerance and T-cell exhaustion in chronic viral infection and cancers. TIM3 maturation and cell surface expression is facilitated by forming a heterodimeric interaction with CD66a. Co-blockade of CD66a and TIM3 enhanced anti-tumor immune responses, and eliminated tumors in mouse colorectal cancer models.
Protein expression analysis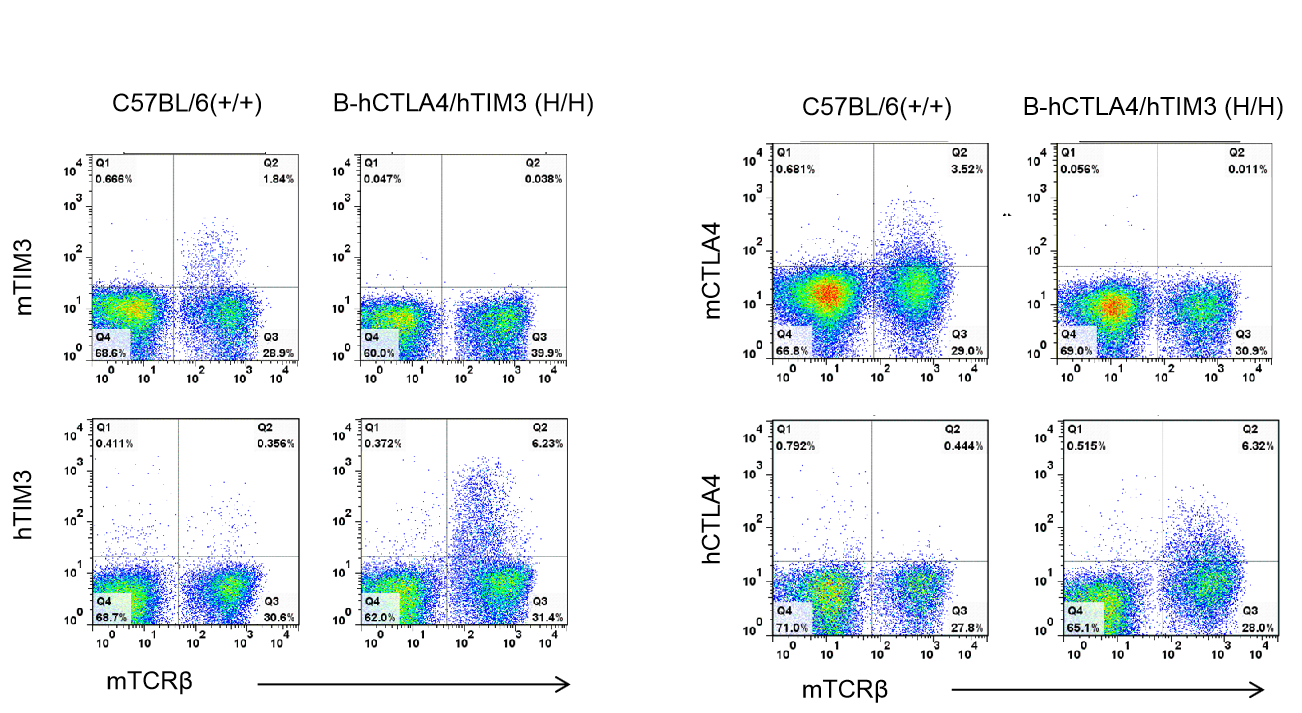 Strain specific TIM3 and CTLA4 expression analysis in homozygous B-hCTLA4/hTIM3 mice by flow cytometry. Splenocytes were collected from WT and homozygous B-hCTLA4/hTIM3 (H/H) mice stimulated with anti-CD3ε in vivo, and analyzed by flow cytometry with species-specific anti-TIM3 and anti-CTLA4 antibody. Mouse TIM3 and CTLA4 were detectable in WT mice. Human TIM3 amd CTLA4 were exclusively detectable in homozygous B-hCTLA4/hTIM3 but not WT mice.