Strain Name
C57BL/6-Il10ratm1(IL10RA)/Bcgen
Common Name

B-hIL10RA mice

Background

C57BL/6

Catalog number
110083

Aliases

CD210; IL10R; CD210a; CDW210A; HIL-10R; IL-10R1
Gene description
IL10RA protein encoded by this gene is a receptor for interleukin 10. This protein is structurally related to interferon receptors. It has been shown to mediate the immunosuppressive signal of interleukin 10, and thus inhibits the synthesis of proinflammatory cytokines. This receptor is reported to promote survival of progenitor myeloid cells through the insulin receptor substrate-2/PI 3-kinase/AKT pathway. Activation of this receptor leads to tyrosine phosphorylation of JAK1 and TYK2 kinases.
Protein expression analysis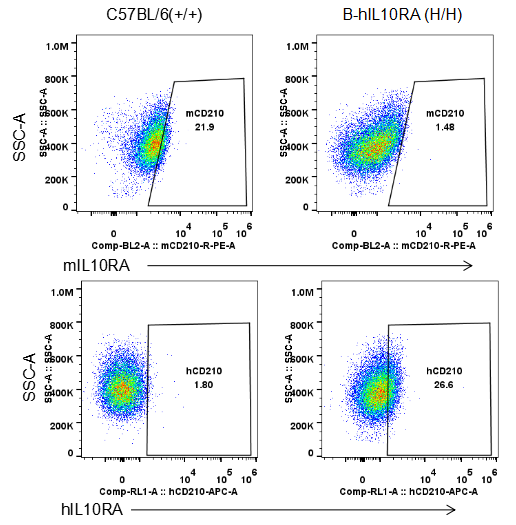 Strain specific IL10RA expression analysis in homozygous B-hIL10RA mice by flow cytometry. Peritoneal washes were collected from WT and homozygous B-hIL10RA (H/H) mice and analyzed by flow cytometry with species-specific anti-IL10RA antibody. Mouse IL10RA was exclusively detectable in WT mice. Human IL10RA were exclusively detectable in homozygous B-hIL10RA but not WT mice.