Strain Name
C57BL/6-Tnfrsf4tm1(TNFRSF4)Tnfsf4tm1(TNFSF4)/Bcgen
Common Name
B-hOX40/hOX40L mice
Background
C57BL/6
Catalog number
120543
Related Genes


TNFRSF4(Tumor necrosis factor receptor superfamily, member 4, also known as OX40);

TNFSF4 ( tumor necrosis factor(TNF) superfamily member 4, also known as OX40L)
Gene description
OX40, also known as Tnfrsf4 (Tumor necrosis factor receptor super family, member 4), is mainly expressed on the surface of activated CD4+ and CD8+ T cells, and its binding with the OX40 ligand can stimulate CD8+ T Cell activation. OX40L is a ligand for OX40 (also known as CD134 or TNFSF4) and is stably expressed on many antigen-presenting cells such as DC2s, macrophages, and activated B lymphocytes. The coactivation of OX40/OX40L enhances T cell function, including cytokine production, proliferation and T cell survival. Ligation of OX40 with targeted agonist anti-OX40 mAbs conveys activating signals to T cells. When combined with other therapeutic treatments, such as anti-PD-1 or anti-CTLA-4 blockade, cytokines, chemotherapy, or radiotherapy, the anti-tumor activity of agonist anti-OX40 treatment will be further enhanced. OX40–OX40L blockade may ameliorate autoantigen-specific T cell responses and reduce immune activity in autoimmunity diseases.
Protein expression analysis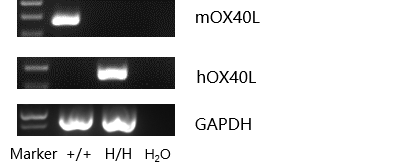 Strain specific analysis of OX40L gene expression in WT and B-hOX40/hOX40L mice by RT-PCR. (B)Mouse Ox40l mRNA was detectable in DC cell of wild-type (+/+) . Human OX40L mRNA was detectable only in B-hOX40/hOX40L (H/H) but not in +/+ mice.
Strain specific OX40 expression analysis in homozygous B-hOX40/hOX40L mice by flow cytometry. Splenocytes were collected from WT and homozygous B-hOX40/hOX40L (H/H) mice stimulated with anti-CD3ε in vivo, and analyzed by flow cytometry with species-specific anti-OX40 antibody. Mouse OX40 was detectable in WT mice. Human OX40 was exclusively detectable in homozygous B-hOX40/hOX40L (H/H) but not WT mice.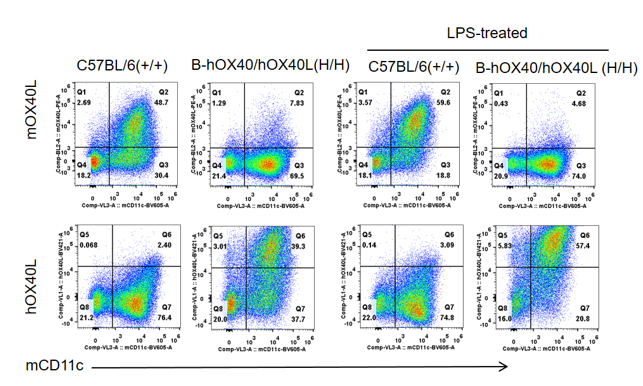 Strain specific OX40L expression analysis in homozygous B-hOX40/hOX40L mice by flow cytometry. (A)Bone marrow cells were collected from WT and homozygous B-hOX40/hOX40L (H/H) mice. DCs were induced from bone marrow cells and stimulated with LPS. Then DCs were analyzed by flow cytometry with anti-OX40L antibodies. Mouse OX40L was detectable in WT mice. Human OX40L was exclusively detectable in homozygous B-hOX40/hOX40L (H/H) but not WT mice