Strain Name
C57BL/6-Cd274tm1(CD274)Lag3tm1(LAG3)/Bcgen
Common Name

B-hPD-L1/hLAG3 mice

Background

C57BL/6

Catalog number
120533
Related Genes

Cd274 (CD274 antigen)
Lag3 (lymphocyte-activation gene 3)
Gene description
PD-L1 (Programmed cell death ligand-1), also known as B7-H1 and CD274, is mainly expressed in antigen-presenting cells (APCs) and activated T cells, and is one of the two ligands of PD-1. The interaction between PD1 and PD-L1 plays an important role in the negative regulation of the immune response. PD-L1 is highly expressed in a variety of solid tumors. PD-1 and PD-L1 interactions can reduce T cell activation and promote tumor immune escape. The PD-1/PD-L1 signaling pathway can be blocked and antitumor immune response can be restored by using by anti-PD-1 or anti-PD-L1 antibodies to block the binding of PD1 to PD-L1. LAG3 (Lymphocyte activation gene 3, CD223) is a lymphocyte activation gene and a member of the Ig family. It is mainly expressed in activated T cells, NK cells, B cells and plasmacytoid DCs. LAG3 is a negative regulator of immunity and mainly binds to MHC class Ⅱ molecules to regulate the function of dendritic cells. The expression of LAG3 is associated with the negative immunoregulatory function of specific T cells. Inhibition of LAG3 function enhances the antitumor effect of specific CD8+ T cells, therefore LAG3 is a potential target for tumor immunotherapy.
Protein expression analysis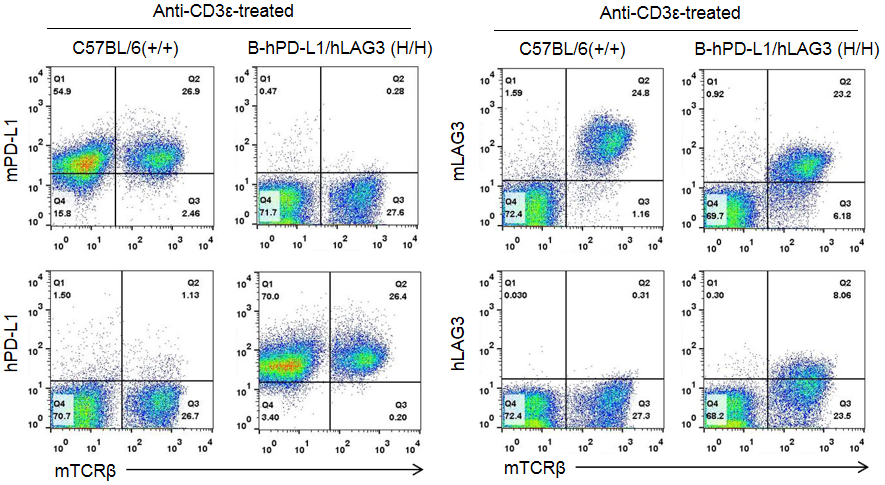 Strain specific PD-L1 and LAG3 expression analysis in homozygous B-hPD-L1/hLAG3 mice by flow cytometry. Splenocytes were collected from WT and homozygous B-hPD-L1/hLAG3 (H/H) mice stimulated with anti-CD3ε in vivo, and analyzed by flow cytometry with species-specific anti-LAG3 antibody. Mouse PD-L1 was detectable in WT mice, mouse LAG3 was detectable in WT and homozygous B-hLAG3 mice due to the anti-mouse LAG3 antibody cross-reacts with human LAG3. Human PD-L1 and LAG3 were exclusively detectable in homozygous hPD-L1/hLAG3 but not WT mice.