Strain Name
C57BL/6-Pdgfrbtm1(PDGFRB)/Bcgen
Common Name
B-hPDGFRB mice
Background
C57BL/6
Catalog number
111317
Related Genes

CD140B, IBGC4, IMF1, JTK12, KOGS, PDGFR, PDGFR-1, PDGFR1, PENTT
Gene description
The PDGFRB gene encodes a typical receptor tyrosine kinase, which belongs to the type III tyrosine kinase receptor (RTK) family and is structurally characterized by five extracellular immunoglobulin-like domains, a single membrane-spanning helix domain, an intracellular juxtamembrane domain, a split tyrosine kinase domain and a carboxylic tail. Tyrosine-protein kinase that acts as cell-surface receptor for homodimeric PDGFB and PDGFD and for heterodimers formed by PDGFA and PDGFB, and plays an essential role in the regulation of embryonic development, cell proliferation, survival, differentiation, chemotaxis and migration. Plays an essential role in blood vessel development by promoting proliferation, migration and recruitment of pericytes and smooth muscle cells to endothelial cells. Plays a role in the migration of vascular smooth muscle cells and the formation of neointima at vascular injury sites. Required for normal development of the cardiovascular system. Required for normal recruitment of pericytes (mesangial cells) in the kidney glomerulus, and for normal formation of a branched network of capillaries in kidney glomeruli. Promotes rearrangement of the actin cytoskeleton and the formation of membrane ruffles. This gene is flanked on chromosome 5 by the genes for granulocyte-macrophage colony-stimulating factor and macrophage-colony stimulating factor receptor; all three genes may be implicated in the 5-q syndrome. A translocation between chromosomes 5 and 12, that fuses this gene to that of the ETV6 gene, results in chronic myeloproliferative disorder with eosinophilia.
mRNA expression analysis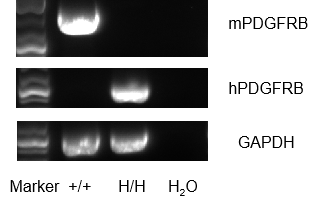 Strain specific analysis of PDGFRB gene expression in wild type and B-hPDGFRB mice by RT-PCR.
Mouse Pdgfrb mRNA was detectable only in lung of wild type (+/+) mice. Human PDGFRB mRNA was detectable only in homozygous B-hPDGFRB (H/H) mice but not in wild type mice.
Protein expression analysis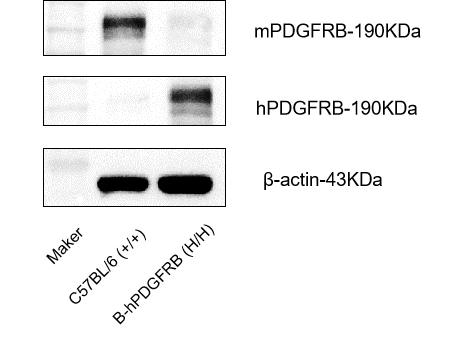 Strain specific PDGFRB expression analysis in homozygous B-hPDGFRB mice by western blot.
Lung was collected from wild type (+/+) mice and homozygous B-hPDGFRB (H/H) mice and analyzed by western blot with species-specific anti-PDGFRB antibody. Mouse PDGFRB was detectable in wild type mice. Human PDGFRB was detectable in homozygous B-hPDGFRB but not in wild type mice.