Strain Name
C57BL/6-Pvrigtm1(PVRIG)/Bcgen
Common Name
B-hPVRIG mice
Background
C57BL/6
Catalog number
110091
Related Genes

CD112R; C7orf15
Gene description
PVRIG (poliovirus receptor related immunoglobulin domain-containing protein, also known as CD112R and C7orf15), is an approximately 34 kDa single transmembrane protein in the poliovirus receptor-like protein (PVR) family. The CD112R gene encodes a putative single transmembrane protein, which is composed of a single extracellular IgV domain, one transmembrane domain, and a long intracellular domain. Notably, the intracellular domain contains two tyrosine residues, one within an ITIM-like motif that is a potential docking site for phosphatases. The extracellular domain sequence of human and mouse CD112R have 65.3% similarity. The human PVRIG gene is preferentially expressed on the surface of T cells and NK cells, predominantly on memory and effector CD8+ T cells, but not in monocyte derived dendritic cells. PVRIG expression is upregulated after in vitro T cell activation with anti-CD3 and anti-CD28 antibodies. PVRIG functions as a cell surface receptor for Nectin-2/CD112, a cell surface protein that is widely expressed on antigen-presenting cells and tumor cells. Upon ligation of PVRIG and Nectin-2, T cell proliferation is inhibited, suggesting PVRIG may act as a coinhibitory receptor that suppresses T-cell receptor-mediated signals.
mRNA expression analysis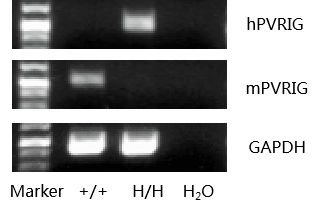 Strain specific analysis of PVRIG gene expression in WT and B-hPVRIG mice by RT-PCR. Mouse Pvrig mRNA was detectable in splenocytes of wild-type (+/+). Human PVRIG mRNA was detectable only in B-hPVRIG mice (H/H) but not in wild type mice.
Protein expression analysis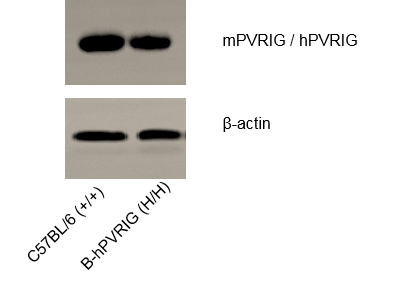 PVRIG expression analysis in homozygous B-hPVRIG mice by western blot. Heart collected from wild type and homozygous B-hPVRIG mice (H/H) and analyzed by western blot with anti-PVRIG antibody. Mouse PVRIG was detectable in wild-type mice. Human PVRIG was detectable in homozygous B-hPVRIG mice. Anti-PVRIG antibody is crossly reactive with PVRIG in human and mice.
In vivo efficacy of anti-human PVRIG antibodies
Antitumor activity of anti-human PVRIG antibodies in B-hPVRIG mice. (A) COM-701 (in house) and SRF-813 (in house) inhibited MC38 tumor growth in B-hPVRIG mice. Murine colon cancer MC38 cells were subcutaneously implanted into homozygous B-hPVRIG mice (female, 6-week-old, n=5). Mice were grouped when tumor volume reached approximately 100 mm3, at which time they were treated with COM-701 (in house) and SRF-813 (in house) with doses and schedules in panel A. (B) Body weight changes during treatment. As shown in panel A, anti-human PVRIG antibodies were efficacious in controlling tumor growth in B-hPVRIG mice, demonstrating that the B-hPVRIG mice provide a powerful preclinical model for in vivo evaluation of anti-human PVRIG antibodies. Values are expressed as mean ± SEM.